Welcome To


Simcoe Terrace Retirement Community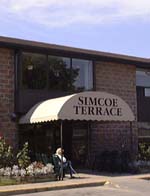 Situated in beautiful downtown Barrie, Simcoe Terrace is ideally located on a charming tree-lined street within walking distance of local shops and services. For over 20 years, Simcoe Terrace has provided a cozy and affordable retirement living option for residents who appreciate good value. Choose from two distinct lifestyle options and enjoy peace-of-mind knowing that staff are always available if needed.
New and Improved!
We invite you to come by and see some of the changes we have made. You will be impressed by our newly renovated amenity spaces, refreshed interiors and expert management team.

Call for your personalized tour today - 705-722-5750.
About Us
Simcoe Terrace brings vitality to senior living by combining a safe, secure living environment with ample opportunities for Residents to pursue their passions and enjoy life. We offer our residents a choice of warm, inviting accommodations to suit individual lifestyles and the convenience of finding the services they need in the same building.

Our innovative Zest for Life™ program is our philosophical approach to service delivery in our Retirement Homes. It is the foundation or framework from which we design and deliver all our programs and services.
It focuses us on a service delivery model that encourages seniors to age well and successfully.
It honors choice and strives to provide opportunities for our residents.
The Zest for Life 'signature services' are some examples of how we enact or make this philosophy come to life.

Mind – individuality, honoring you as a person
Body – wellness
Spirit – sense of community