Amenities
You'll be surprised by all the great features of Simcoe Terrace. Besides the lovely dining room and adjoining Tea Room, we have many welcoming and newly renovated spaces for you to enjoy:
Lounges
Fitness room
Sunroom
Activity room
Hobby area and puzzle corner
Walk-in shower room
Complimentary laundry facilities
Spa Services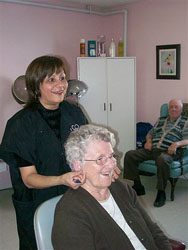 Treat yourself and enjoy the added convenience of our onsite hair salon and visiting nail care and foot care services. Services are available to residents and visiting community members by appointment.

To book an appointment please call 705-722-5750.